A bit late but I was trying to find photos for this post, which took a while.
Since yesterday (pretend this came out on Friday, please) was Halloween, I wanted to share my past Halloween costumes going as far back as I can.
Starting with my first Halloween. I was nothing. My parents were too lazy, or something, and decided to not dress me up for Halloween. I was in a carrier on my dad's back as he went trick-or-treating with older brother, who was a dragon I believe.
Not too sure what year this was but I was Esmerelda from Disney's Hunchback of Notre Dame- one of my favourite Disney movies growing up. I enjoyed the princess movies, but my favourites were the ones that didn't have a princess in them (Peter Pan, Alice in Wonderland, etc.)
When I was six I was a witch, just a generic orange and black costume I got from a costume shop. Another girl in my class had the same costume and I think it was that year that I decided I didn't like having the same costume as someone else.
The next year I was Belle from Beauty and the Beast. Again it was a generic Halloween costume from a shop but I had fun with it. That is my cousin in a cowgirl costume, I believe her mum made for her.
Next year I was a vampire, again generic costume, but I did spice things up with some black lip stick which freaked a few people out.
Then I started getting creative and wanting to be characters that weren't in Halloween shops. One of my favourite Scooby-Doo movies is Scooby-Doo and the Witch's Ghost, and in it is a band called the Hex Girls. I decided to be one of them, Dusk, the blonde drummer. I really wish I could find a picture of this because this was when I started to figure out how to make costumes and what pieces I would need and stuff like that.
The next year I again was creative and decided to be a superhero! One that no one in elementary school had heard of or seen in the movie Mystery Men. I idolized the Bowler in the film and really wanted to be her for Halloween, so once more I figured out what I would need and put the costume together. No one knew who I was, but I was alright with that. My brother was a ninja.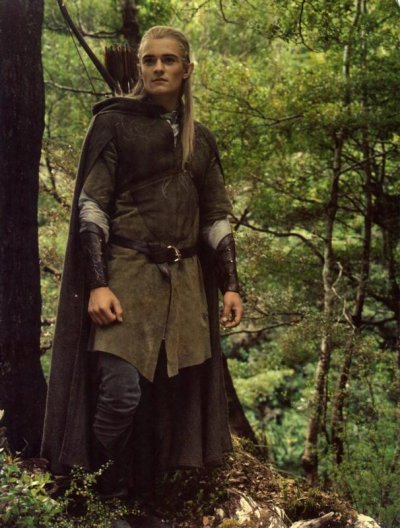 I loved the Lord of the Rings books, and my favourite race was the elves, so when the movies came out I decided I wanted to be Legolas for Halloween. Again I don't think they quite had costumes for that available so my mum made mine. It isn't perfect, but I loved it, and at least this year they sort of knew who I was. Those that saw the movies did at least. (My father was a Hello Kitty pirate...)
The year after I was Luna Lovegood. I used a bunch of found pieces of clothing that I already had and only made the butterbeer cap necklace and the wand, it was kind of a last minute rush costume, but I was still happy with it. Still no one knew who I was, just a random witch.
Then the year after I do not recall who or what I was, wish I could but I really can't, this is when I started to not care too much for Halloween but that will quickly change in High School once I start cosplaying.
Next year I was a vampire again. They are my favourite monster and really it was a last minute buy at the Halloween shop. I realized I hadn't picked out a costume so I went with the coolest looking one and the one that was possibly the most covered up. That was the first time I dyed my hair black too, and got my awesome vampire fangs that I still have and use to this day.
Now comes the time when I started cosplaying. It all began this year when I decided I wanted to be Sailor Jupiter and I wanted to make the costume myself. So my mum taught me to use her sewing machine and it became a six year relationship until she bought me a new one for my birthday. I sewed that costume and I got to be Sailor Jupiter, and people knew who I was! I remember walking out of one of my classes and a guy dressed as a Bleach character gave me a head nod of approval.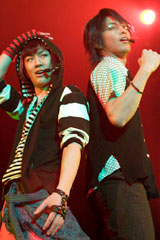 I went from a recognizable character to one pretty much no one knew. It was a character from a musical in Japan based off the manga/ anime The Prince of Tennis. But it wasn't just the musical, it was a special musical called Dream Live 3rd. I made a costume for me and friend to be Oshitari and Gakuto from it.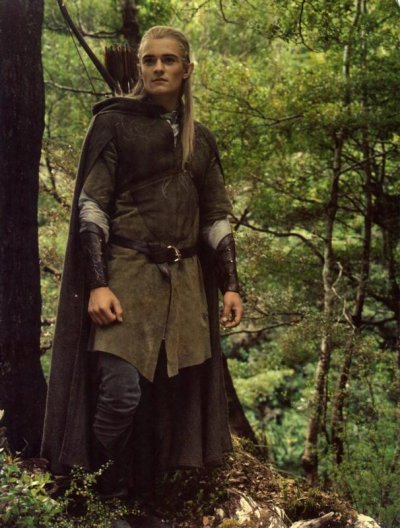 The next year I was well into cosplaying by now and had a lot of old costumes so I decided to just revamp one so I reached in and pulled out my Legolas costume from several Halloween's ago that my mum made. I decided to make it more like the one in the film so I re-watched the films and did a complete re-do of it. Even now I could still improve it if I wanted to but I'm good.
Last year of high school I decided to go out with a bang and made a costume for a film that wasn't even out yet. There was still a good two months till it's release. Iracebeth, the Red Queen, from Tim Burton's Alice in Wonderland. I love Colleen Atwood's costume designs, it is what got me through Snow White and the Huntsman, and when I saw her design for the Red Queen I had to make it. And I did and people still recognized me as the Queen of Hearts.
Charlotte Labouf from Princess and the Frog was a character that had to grow on me and when she did I finally decided to attempt to make her ballgown. It still isn't perfect and I want to fix a lot of things on it, but it was okay for that night. There was just a lot of pink and lot of poof, and for some reason people liked to watch me go down stairs in it. (That was my friend in a Giselle costume from Enhanted that I made for her).
Last year for Halloween I didn't really plan a Halloween costume I just decided to wear whatever I happened to finish at the time and it happened to be my Weird Girl costume from Frankenweenie. A few people recognized it, some said I was a dark Alice, but I love that costume and that character.
And finally this year, I had planned to be Elsa from Frozen, but that costume was giving me a hard time so I had to step back from it and by the time I finished all my commissioned costumes I didn't have that much time so I whipped up a Molly Hooper costume from Sherlock. It is sad to say that even with the name badge no one recognized who I was.
And those are all my Halloween costumes so far. Looking back I could say I am happy with them, each one unique and not very mainstream as others would be. I still wish my parents had dressed my up for my first Halloween though.
Happy Halloween.
-Charlotte